Don't Dis the Bi-Level and Split-Level - Part II
It's been a few years since we wrote our first ode to the ubiquitous split level. Since then, we've worked on several bi- and split-levels, including four larger-scope projects, and our love has not faded in the least. Time to circle back and remind you of the pros of these terrific homes.
First, we still believe split-levels and bi-levels are the best bang for your buck—certainly in Bloomington, Indiana, and likely across the country too. What may seem at first blush like a utilitarian box has all kinds of potential. Split-levels and bi-levels are often ripe for structural changes like opening up walls and adding skylights, and they usually have very logical, compact footprints—a nice unpretentious contrast to super-sized McMansions, if you actually like to communicate with your loved ones at home without walkie talkies or texting.
Check these examples out.
Expansive Main Floor Renovation in a Bi-level
First, one of our very favorite projects from the last couple of years. This is an upstairs renovation of a bi-level—a go-big-or-go-home project that united living, dining and kitchen, and completely changed the character of the space. We added clerestory windows and a fireplace, opened up walls, and enlarged the kitchen. The palette is high contrast but simple, a beautiful backdrop for the homeowners' stunning collection of colorful art. *Sigh* How we love homeowners with great art. Full gallery is here.
We have also worked on a few family rooms in bi-levels over the past couple of years. You know, that room downstairs that always feels and smells like a basement, even when it's half above ground. Drain and insulate it, friends, and goodbye mildew, hello cozy multipurpose living space! The floor plans for two projects are below. As they are still works in progress—some of our clients follow the 3 Ps—we will soon have finished galleries to show you and will update this post as progress is made.
Lower-Level Family Room Renovations in Bi-levels and Split-Level
PROJECT 1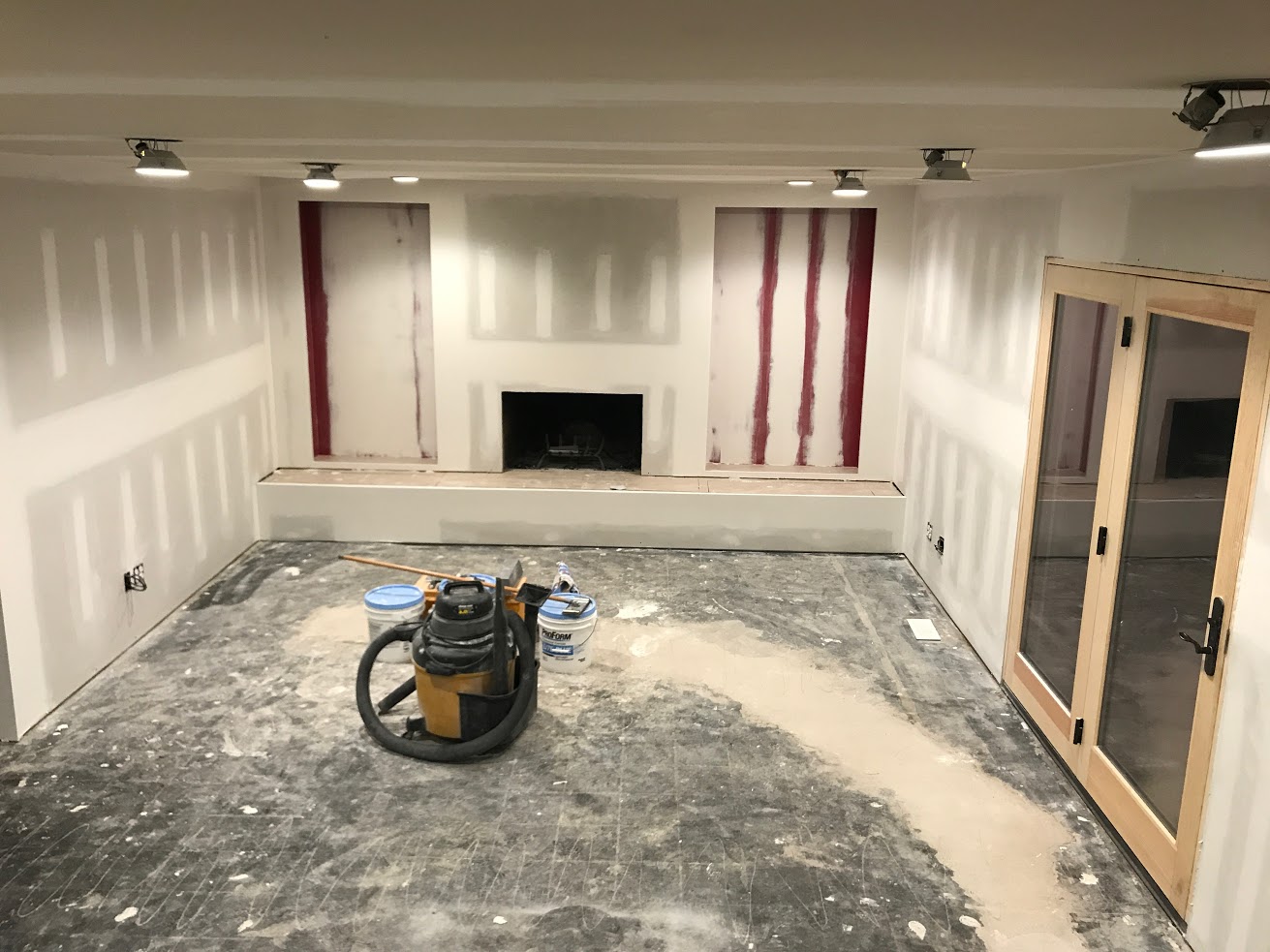 Split-Level Rear Addition
Finally, there is the addition to the split-level—in this case, a modern twist you'd never know was there from the street. It's actually Susan's home and our studio, built to give the Yeley family and SYI team much needed elbow room. In a departure from the 1960s scale of the main part of the home, the addition features soaring ceilings and windows. There were originally four small bedrooms and one galley bath upstairs, so Susan built a studio with exterior access (which could be a mother-in-law suite or airbnb space) with ensuite bath and closet above. You can read more about this project that is so near and dear to us, in this gallery post.
But enough about us.
We've spied some pretty terrific split-level renos around town by other designers, architects and builders. Here is a jaw-dropping transformation near SYI HQ.
And of course, the World Wide Web has loads of examples of renovations on the quintessential mid-century Home For The People. We're crushing on this renovation by City Desk Studio up in St. Paul, MN, this week. It may be the screen out front. (Did we mention we love screens?) But, honestly, it's got some modest elements (including an IKEA kitchen hack) that won't break the bank.
For more inspiration, check out our Houzz ideabook.